Long distance movers Washington DC
Get an Online Quote
"*" indicates required fields
If you're planning a long distance move, Washington DC is a great place to call home. You'll enjoy all of the cultural and historical attractions the city has to offer, while also having access to all of the amenities of a major metropolitan area. But you'll need to settle in before you can start enjoying your new home. That's where long distance movers Washington DC come in. Excalibur Moving and Storage can help you with every step of your move, from packing up your belongings to getting them safely to your new home. We have years of experience moving people and their possessions long distances. Also, we know exactly what to do to make your move as smooth and stress-free as possible. So if you're ready to start enjoying all that Washington DC has to offer, be sure to contact us today.
Why do you need to hire professional movers for your long distance move?
There are many reasons to hire professional movers for your long distance move. Perhaps most importantly, professional movers have the experience and expertise to ensure that your belongings are safely and securely transported to your new home. In addition, professional movers can provide helpful advice and guidance on the best way to pack and ship your belongings, which can save you time and money in the long run.
Finally, professional movers will typically offer insurance coverage for your belongings, giving you peace of mind in case of any damage or loss during transit. When making the important decision to hire professional movers, consider all of these factors to choose the best company for your needs.
Why are we the best choice when it comes to long distance movers Washington DC offers?
We understand that moving can be a big undertaking, and we're here to help you every step of the way. There are many reasons why we are the best choice and here are a few of them:
We are experienced movers and we will be able to help you out with any type of moving-related situation
Our moving professionals are equipped and prepared to help you out during this entire experience
Each relocation is tailored according to your needs so you are completely satisfied every single time
We have additional moving services for you, like packing service, so you have nothing to worry about
If you don't have enough time to deal with any part of your relocation, you can choose our Gold Moving Service and we will take care of absolutely every part of your move!
In case you need any special moving services done, we are here as well. Moving a piano is something that can be hard for you but we have a great team of piano movers that have experience with that
We will relocate your family  in no time, at the most affordable moving prices
So if you want a reliable company that offers a wide range of moving services in Washington DC, and that will help you make your long distance move as smooth and stress-free as possible choose Excalibur Moving and Storage. Our expert team of movers will take care of all the details, from packing and loading your belongings to transport and unloading at your new home.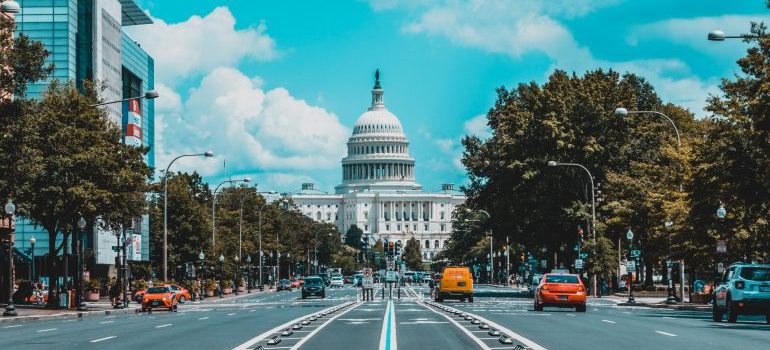 We are affordable and we give out the best moving service!
If you are looking for residential movers in Washington DC, then you have come to the right place. We are a highly reputable and affordable moving company that offers the best moving service in the area. Also, there is a team of experienced and professional movers who will take care of your belongings and ensure that they are safely transported to your new home. We also offer a free consultation so that you can get an estimate of the cost of our services.
Excalibur Moving and Storage is your best choice. you can take a look at our moving reviews and see how many satisfied customers we have to show for our work. We will take care of everything for you in no time, all you need to do is contact us.
Amazing commercial movers for your long distance relocation
If you are planning to move your business to Washington DC or elsewhere, we are here to make sure you do it without any issues. Our commercial movers will transport your office in no time, and without damaging a thing! We are aware that most of the offices have valuable documents, items, or tools. So, we are extra careful each and every time we move your office to your new city.
Our team of professional office movers in Washington DC, can help you move your office quickly and efficiently, with minimal disruption to your business. We understand that time is of the essence when it comes to office moves, so we'll work closely with you to develop a plan that fits your schedule and your budget. We know that every office is different, so we'll tailor our services to meet your specific needs. Whether you need help with packing, loading, or transportation, we're here to make your office move as smooth and stress-free as possible. Contact us today to get started.
Reach out to us and have a stress-free relocation process
If you are looking for some of the most reliable long distance movers Washington DC offers, you can be sure that you will have amazing relocation and moving professionals the entire time. Contact us here at Excalibur Moving and Storage with any questions. We will make sure you get all the answers right away.