Moving Services Washington DC
Navigate your transition with top-notch moving services Washington DC has to offer. Our team ensures a smooth relocation process tailored to your needs.
Get an Online Quote
"*" indicates required fields
Moving is one of the most stressful events in a person's life. If you've already moved before, you know just how hard that can be. Not only is it a huge change for you and your family, but it is also a lot of work. The best way to make this easier is to look into moving services Washington DC relies on. The help of dependable and experienced professional movers like Excalibur Moving and Storage can make all the difference in your relocation. We will make packing, storage and moving easy for you. So don't hesitate to contact us and get the help you need to have the kind of moving experience you deserve.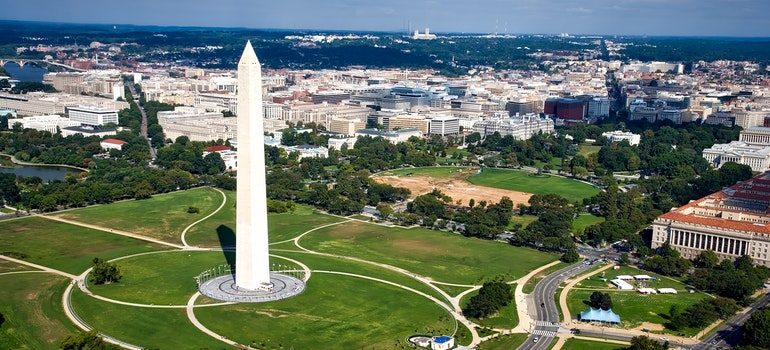 Our moving services in Washington DC are just what you need for your upcoming relocation
Excalibur Moving and Storage is a full-service moving and storage company founded with one goal: to make moving in Washington DC easier and better for everyone. We provide a wide variety of moving services in the area that will make your relocation a quick and stress-free affair. So whenever you're moving to Washington DC, out of Washington DC or anywhere within its borders, give us a call. We can make this process an enjoyable one for you.
We offer all the high quality moving services Washington DC needs
Since every relocation is different, it is important to be versatile in the moving business. No one knows that better than an experienced moving company like Excalibur Moving and Storage. For that reason, we have worked hard to develop a comprehensive offer of Washington moving services that you can rely on for any kind of move. You can rely on our moving experts for:
Affordable local moving services you will love
Moving locally is not as big of a challenge as moving across the country, that much is undeniable. But it does come with its own unique set of challenges. While facing those challenges alone is a possibility, there's no need for you to put yourself through such an experience when you can have an excellent local moving experience in Washington with Excalibur Moving and Storage. We offer some of the best local moving rates in the country so you won't have to worry about blowing your budget. Just give us a call and let us handle the rest.
Long-distance moving made easy
The further away you move, the harder the relocation process becomes. Unless, of course, you have the right kind of help. Our long-distance movers are well versed in the art of relocation to great distances – we know exactly how to make your long-distance move easy. From packing to temporary storage to transportation, you will find everything you need for a long-distance relocation in our repertoire.
Trouble-free interstate relocation
If you're moving from the District of Columbia to one of the fifty states, you'll have your hands full with paperwork and planning. There's no need to add more stress to this already stressful situation. Instead, just get in touch with us. Our specialized interstate moving teams know exactly what you're going through and how to make it easier on you. So let us take care of your belongings while you focus on more important things.
Expedient business relocation
Moving a business is a big decision and one that requires some sacrifice. After all, you won't be able to keep working while you're moving. Under some circumstances, this could cost you a lot of money. But if you can move quickly, efficiently, and without any damaged or missing office equipment, then you can be back in business in no time, thus minimizing any potential losses. This kind of fast but safe business relocation is exactly what Excalibur Moving and Storage specialize in.
Professional packing for every move
Packing is one of the most quintessential tasks on your to-do list when moving. Regardless of whether you are moving your home or your office, whether you are moving locally or somewhere far away, you always need to pack. But you don't have to do it yourself! Our teams of professional packers will be more than happy to assist. Equipped with high-quality supplies, trained and experienced, they can have you packed and ready in no time.
Secure on-site storage units for all your belongings
You may find as you're moving that you need some extra space to put all your boxes in. If you're downsizing, you may even want to keep some of your stuff more permanently in a secondary location. Either way, we have just the solution: our secure, spacious and clean storage units in Washington DC are exactly what you're looking for.
Treat yourself to some of the best moving services in Washington DC with our Gold Moving Services
Our customers' satisfaction is always at the forefront of our minds. No matter which services you hire us for, you can count on us to always do our best. But sometimes, you just need that little bit extra. So when you want your belongings to be treated with extra care, dedicated extra time and paid special attention, Excalbur Moving and Storage Gold Services are the perfect solution. We will take the utmost care of your home or office, ensuring that you get the kind of moving experience you deserve.
Start your relocation off on the right foot – contact us today!
It is never too early to start preparing for your move. So contact us today, tell us about your plans and get a free moving estimate. We are always ready to start helping you as soon as you need it. It only takes a quick phone call or a few lines in an email and you can have some of the best moving services Washington DC has to offer for your upcoming relocation.