We go the Extra Mile You Deserve!
Trust one of the best moving companies in Maryland to relocate your household or business with ease.
Get an Online Quote
"*" indicates required fields
About Our Company
Excalibur Moving and Storage is a full-service moving company Rockville MD residents trust the most. Our local and long-distance moving services, storage, packing assistance, and numerous additional services are available for all residential and commercial needs. We will go the extra mile for our customers, so get in touch today!
Click here to view the Ready to Move Brochure
Click here to view Your Rights & Responsibilities Handbook
find out more
Testimonials
This is a GREAT moving company! I was so pleased with how my move went and everything these movers did to go above and beyond. I found them by reading reviews and I chose them because they gave me an honest price! The owner Eli is an honest guy who takes great pride in customer service! He explained everything to me and took the time to make sure that I had everything I needed for my move. The movers were incredibly fast but not careless. They just know what they are doing and they are pros!! During a move you assume that something will get damaged but I am happy to report no losses or damage to any of our belongings. I would highly recommend this company to anyone who is looking for the best mover and at the best price!! Thank you Excalibur and Eli for a perfect, stress-free move! I will definitely be using you again and recommending you to all of my friends!!
Tim Stevens
Rockville, MD
5 months ago

If you are looking for a mover, I really recommend Excalibur! I had such an easy move because of them! These guys went above and beyond to give me a fantastic experience! I had never hired a moving company before so this was a new experience for me. I had only heard horror stories about other people's moves so I wasn't sure what to expect. I read reviews and called several companies. I felt the most comfortable with Excalibur. The owner helped me understand everything, he helped me prepare for my move & he gave me a reasonable price so I decided to go with them. I'm so glad I chose them because they took the stress out of my move! They showed up on time and got to work immediately. Watching them load the truck was like watching an expert play Tetris! They were professionals in every sense of the word and they knew exactly what they were doing. Great company, great expertise and great price!!
5 months ago

Get an Online Moving Quote Today
Submit your information to get a free and non-obligatory moving estimate. Have one of the top movers in Maryland handle your move with ease.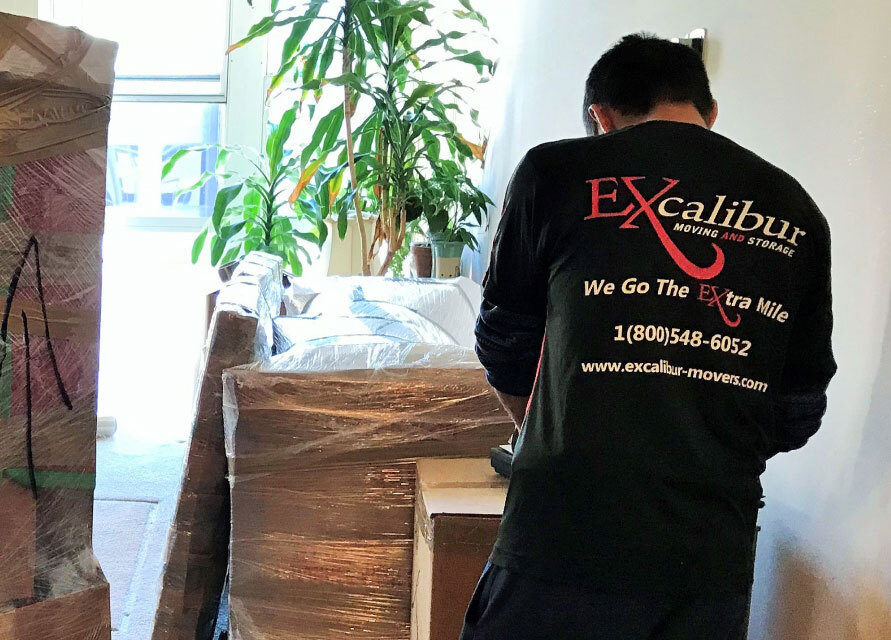 Why Choose Us?
In search of the premier moving and storage Rockville MD can provide? Look no further! Choosing us for your relocation endeavor is a wise decision. We're a highly regarded moving and storage Maryland company committed to easing your transition to a new place. Our process is simple yet effective. We meticulously plan, pack, move, and even help set up your belongings in your new home or office. Our movers Rockville MD residents recommend the most are known for its professionalism, punctuality, and friendly service. We handle every item with utmost care, ensuring they reach the destination safely. Special items like pianos? We've got them covered too. With us, you get a smooth, worry-free moving experience, making the change to your new place a pleasant journey.
FAQ
Do you provide packing supplies, and can you assist with packing and unpacking?
We offer a wide range of packing supplies. Additionally, our skilled movers and packers in Maryland are trained to handle your packing and unpacking needs, ensuring a smooth moving experience.
What measures are taken to ensure a smooth long-distance or interstate move?
As one of the best moving companies in Maryland, meticulous planning is at the core of our approach for long-distance or interstate moves. We provide precise estimates, adhere to time-bound schedules, and ensure all required permits are secured, facilitating a seamless transition.
Are there any items that movers Rockville MD based cannot move?
Certain items are restricted due to safety and legal considerations, such as hazardous materials, and perishables. Our moving consultants will provide you with a list of forbidden items before the move to ensure a seamless transition.
Is there a cancellation policy in case my moving plans change?
We understand that moving plans can change. Our movers in Maryland are committed to doing everything possible to accommodate our clients' needsshould their moving plans change. For more detailed information regarding our cancellation policy, feel free to contact our office.
Do you have a US DOT number, and could you verify your licensing and insurance?
As a reputable moving company Rockville, MD residents trust, we are properly registered with a US DOT number of 2131975. We uphold all federal and local regulations by maintaining active licenses and comprehensive insurance, ensuring a secure and smooth moving or storage experience. Feel free to reach out for any further information or verification. Your trust is our top priority.
Do you offer storage services, in case there is a need to store items before the next location is ready for move-in?
Yes, we do provide storage services. Our moving and storage Maryland solutions are designed to cater to such needs, ensuring your belongings are safely stored until your next location is ready. We aim to provide a seamless transition for all our clients, making us a reliable choice for both moving and storage in Maryland.
When can I expect the delivery of my belongings?
The delivery timeline for your belongings largely depends on the specifics of your move such as the distance and the size of the move. As committed movers in Maryland, we prioritize timely delivery and will provide you with an estimated delivery window during the planning stage of your move. We strive to adhere to the discussed timelines to ensure a smooth and convenient moving experience for our clients.
Areas We Serve
Virginia
Annandale, VA
Cthantilly, VA
Great Falls, VA
Herndon, VA
Leesburg, VA
Springfield, VA
Sterling, VA
Tysons Corner, VA
Woodbridge, VA
Maryland
Bowie, MD
Chevy Chase, MD
Clarksburg, MD
Frederick, MD
Olney, MD
Potomac, MD
Rockville, MD
Upper Marlboro, MD