The advantages of hiring a local moving company in Maryland
Get an Online Quote
"*" indicates required fields
Relocating can be a significant milestone in one's life. However, the process can become overwhelming without the right help. In such scenarios, hiring a local moving company in Maryland is a wise choice that comes with a plethora of benefits. Local movers, like the ones we at Excalibur Moving and Storage MD have available, offer personalized, reliable, and cost-effective solutions to cater to your specific moving needs. There will be plenty of advantages that come with entrusting your moving needs to a local company. Let us show you just some of them we're sure you'll appreciate.
Services according to your personal needs
When planning a move, every individual or family has unique requirements and expectations. This is where the advantage of hiring a local moving company truly shines. A team of experts not only brings in a wealth of local expertise but also a commitment to delivering a service that is tailored to meet your specific needs. Especially if you are moving in Rockville MD, you'll find that our personalized approach simplifies the process, making it less stressful and more efficient. The goal is to provide a seamless moving experience, ensuring that your move is conducted with the utmost care.
The relocation will be cost-effective
Opting for a local moving service is a smart choice for those looking to save both time and money. The cost-effectiveness of their service is one of the main details of their operations. Understanding that moving can be financially taxing, the pricing is tailored to be transparent and fair, without any hidden charges. By choosing the residential movers Rockville MD citizens vouch for, one will have a service that prioritizes not only the safety and care of belongings but also the budget. With quality local movers, you get the best value for your money.
Moreover, various packages are offered to suit different budget ranges, making sure that top-notch relocation services are accessible to everyone. The efficiency and professionalism brought to the table further add to the cost-effectiveness by ensuring the relocation process is completed swiftly without any unexpected expenses. Hence, the move becomes an investment rather than an expenditure. That's because every dollar spent aims to provide a smooth and hassle-free relocation experience.
Save a lot of time by hiring a local moving company in Maryland
Relocating can be a time-consuming task, but hiring professionals significantly cuts down on the time required to complete the move. From the moment the movers step in, they streamline the entire process, handling everything from packing to transportation efficiently. Their familiarity with the local routes ensures a swift transition from one place to another. Additionally, services such as junk removal in Maryland further help the process, as the professionals take care of discarding unwanted items promptly, saving individuals the hassle of doing it themselves. This not only speeds up the moving process but also allows one to focus on settling into their new place faster.
The expertise and local knowledge of the moving company ensure that the relocation is carried out in a timely manner. That will free up valuable time for individuals to attend to other important aspects of the move. The convenience offered through timely and additional services makes it a wise choice for those looking to save time during their relocation.
Have movers that follow Maryland's regulations
Hiring a local moving company in Maryland comes with the assurance of adherence to the state's regulations. The movers are well-versed in the local laws and guidelines that govern relocation services, ensuring that every aspect of the move is conducted within the legal framework. This knowledge is invaluable as it helps in avoiding any legal hiccups that could arise, ensuring a smooth and hassle-free relocation process.
Moreover, compliance with Maryland's regulations reflects the professionalism and reliability of the moving company, providing peace of mind to those entrusting their belongings to the movers. It also underscores the company's commitment to delivering not only a high-quality service but also a lawful and ethical one. This adherence to local regulations, in turn, fosters a trustful and secure environment for individuals making a move. With all of that in mind, a move to a new place becomes less stressful and more streamlined.
A benefit of moving with experts is that they have the right equipment
A significant benefit of engaging experts for a relocation task is their access to the right equipment. They come prepared with tools and materials that make the moving process efficient and safe. For instance, the availability of specialized packing materials in Rockville MD ensures that your belongings are well-protected throughout the transit. The experts utilize high-quality packing supplies that provide optimum protection to each item, be it fragile glassware or hefty furniture.
Moreover, the use of professional equipment like hand trucks, dollies, and furniture pads facilitates a smooth and swift move, minimizing the risk of damage. It's not just about the physical moving equipment as it's also about the technical expertise to operate these tools proficiently, ensuring that each item is handled with care. This level of professionalism significantly reduces the stress associated with moving, providing a seamless experience from start to finish.
Reliable services at all times
One of the signs of a reputable local moving company is the reliability of its services. When planning a move, having a team that you can count on regardless of the circumstances is invaluable. From offering professional packing services Rockville MD  residents recommend to ensuring that your belongings are securely packed and ready for the move, experts will take care of a lot for you. Knowing that a competent and reliable team is handling your move means you can focus on other aspects of your relocation with peace of mind. This consistency in delivering high-quality services fosters a sense of trust and satisfaction among clients. They know that they can depend on the moving company to meet their expectations every time. Here are some of the services that are most frequently used by people who move, including:
Packing services
Storage services
Piano moving
Assembly and disassembly
White glove moving services
Things are flexible for your schedule
Unlike rigid schedules often associated with larger moving companies, local movers tend to offer a more personalized service. For that reason, they accommodate your specific scheduling requirements. Whether you prefer a weekend move, an early morning start, or a mid-week relocation, local movers are often more adaptable to fit your timetable. This flexibility ensures that the moving process aligns with your routine rather than disrupting it. It's about providing a service that conforms to your needs, making the transition to your new place as convenient and stress-free as possible. This approach not only enhances the overall moving experience but also reflects a level of understanding and consideration towards the client's individual circumstances. Therefore, the adaptability in scheduling provided by local movers creates a supportive and accommodating moving experience tailored to your lifestyle.
Easy communication through the moving process
Whether it's about discussing the moving schedule, understanding the costs involved, or simply getting updates on the progress of the move, having a clear channel of communication is invaluable. The ability to easily reach out and receive timely responses provides a sense of reassurance. Moreover, local movers tend to have a better understanding and appreciation of the local community's needs. This ease of communication eliminates unnecessary stress and misunderstandings, creating a collaborative atmosphere between you and the moving team. Through open and straightforward communication, local moving companies ensure that you are not left in the dark at any stage of the moving process, making the entire experience more enjoyable and less daunting.
You get insurance by hiring a local moving company in Maryland
One of the significant advantages of hiring a local moving company in Maryland is the insurance coverage they provide. This insurance is crucial as it offers protection for your belongings during the move. In the unlikely event that some items get damaged or lost, the insurance coverage ensures that you are compensated accordingly. This aspect of hiring a local moving company brings peace of mind, knowing that your valuable possessions are safeguarded against unforeseen mishaps.
It's not just about the financial compensation but also the professionalism and responsibility that comes with offering insurance coverage. The insurance aspect reflects the moving company's commitment to providing a secure and trustworthy service. From partial to full insurance coverage, there are plenty of options that your local Maryland movers can offer when it comes to insurance.
Storage is an option your local movers in Maryland can offer
When relocating, sometimes the need for temporary storage arises. Whether it's due to a delay in moving into your new place or simply the lack of space to accommodate all your belongings immediately. Your local movers in Maryland are well-equipped to provide viable storage solutions to cater to such needs. By offering secure storage Rockville MD has to offer, they ensure that your belongings are safely kept until you are ready to move them to your new location. The storage facilities are designed to accommodate a variety of items, ensuring they remain in pristine condition.
Moreover, having the option of storage provides a seamless transition. That's because you have the flexibility to move your belongings at a pace that suits you. The convenience of having a storage solution as part of your moving package simplifies the process, making it a less daunting task. This added service showcases the comprehensive range of solutions local movers provide, aimed at making your relocation experience as convenient and hassle-free as possible.
Get help even after the moving boxes arrive at your location
The assistance provided by local moving companies in Maryland doesn't just end once your belongings are safely delivered to your new location. They often extend their services beyond that, offering help with unpacking and setting up your new space. This post-move assistance can be of huge help, especially after a tiring moving day. The professional movers can help with arranging furniture, assembling items, and removing packing materials, making it easier for you to settle into your new home swiftly. This extended service relieves the stress and physical strain of moving, providing a smooth transition into your new environment. It's about ensuring a complete, hassle-free moving experience from start to finish.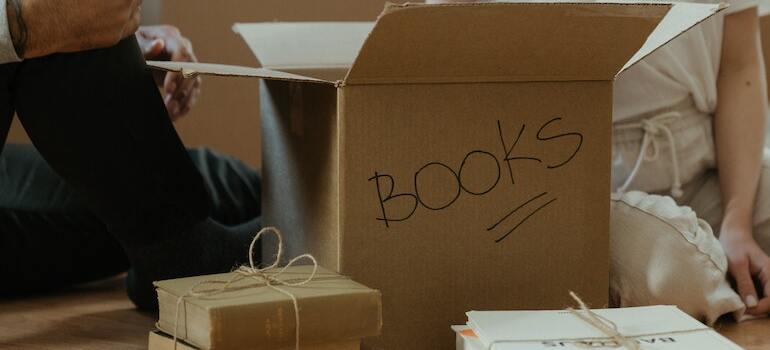 You can verify the reputation of your movers
Are you considering local moving companies in Maryland for your relocation needs? Then, one of the advantages is the ability to verify their reputation within the community easily. Local movers have a presence in the area, and their reputation is often well-known. You can seek recommendations from neighbors, friends, or local businesses who have previously utilized their services.
Furthermore, it's simpler to check their reviews and ratings on local business directories or online platforms. Among them are places like the Better Business Bureau and many others. You can even visit their office in person to get a feel for their operations and professionalism. This accessibility allows you to make an informed decision, ensuring that the company you choose has a track record of providing reliable and satisfactory services. Being able to verify the reputation of your movers gives you added confidence in the choices you make, ensuring a level of trust and comfort as you proceed with your relocation plans.
Use expert assistance in Maryland
Embarking on a new chapter of life with a move can be exciting yet challenging. The logistics involved in relocating, be it a residential or commercial move, can often be complex and demanding. Local moving companies provide an array of benefits that not only simplify the relocation process but also ensure it's smooth and efficient. Their intimate knowledge of the region, coupled with personalized service, makes them an optimal choice for handling the unique demands. Make hiring a local moving company in Maryland easy by following the information from our article.