Best cities for empty nesters in Maryland
Get an Online Quote
"*" indicates required fields
Time flew by really fast and before you know it, your kids are all grown up and ready to move out. It was a happy moment but also sad at the same time. For the first time after many years, you and your significant other will be alone in your home. Now, the home that looked small and crowded suddenly become huge. For this reason, this is the right opportunity to move somewhere else where you always wanted. Everyone has things that they will do when kids grow up and move out. It could be traveling around the world or buying a small house near the sea and relocating there with some moving and storage Maryland providers. Whatever is yours, now it's finally time to do something about it. Therefore, here are some of the best cities for empty nesters in Maryland.
Maryland is a great state for living
Whatever city you choose to move to with some long distance movers Maryland, know that living in Maryland comes with many advantages. The first is a location that is perfect for empty nesters. Maryland might not have many big cities, but it's close to other big cities such as Washington D.C., Philadelphia, and NYC. Additionally, the state has a good number of public airports and one international one called BWI Marshall. Traveling through Maryland is also easy as the state has both interstate and state highways. But this doesn't mean that Maryland is only roads and traffic. You might be surprised to learn that Maryland is covered with trees, more than 40%. Also, there are two mountain ranges going through the state called the Blue Ridge Mountains and the Appalachian Mountains. As you can see, Maryland could be a perfect place for you.
What are the best cities for empty nesters in Maryland?
Looking for a new home when you have kids and when they move out are two completely different processes. Usually, a perfect home for a family with kids is big, has a nice yard, is in a safe neighborhood, close to good schools. However, when you are looking for a home just for you, it should be smaller in a city close to an airport or highways. After all, your kids will visit you often, so it will be more convenient if your home is close to an airport or highway. Additionally, you don't need a huge home anymore. Smaller homes are easier to maintain and you will have an easier time relocating with moving services Rockville MD if you have fewer belongings. Now, Maryland has many great options for empty nesters. Some of the cities you should consider are the following:
Rockville
Silver Spring
Gaithersburg
Bethesda
Baltimore
Greenbelt
Rockville is one of the best cities for empty nesters in Maryland
The city that must be on this list is Rockville. The city is located in Montgomery County and is often regarded as one of the best small cities in America for work, leisure, and life. Rockville is not a big city as it only has a population of almost 70 000. But, this doesn't mean that moving in Rockville MD will boring. There are many entertainment options for everyone and every age. The first place you should visit is Rockville Town Square. There are many great shops and restaurants located here with many other attractions that are mostly free. During the summer months, many outside concerts are held here while winter months are reserved for the outdoor ice rink. If you want to spend time outside in nature and away from the city's crowd, then you should visit Lake Needwood and Rock Creek Regional Park.
The cost of living in Rockville
Rockville is not exactly an affordable city for living in. The most expensive part of living in Rockville is the housing prices. The median home value is $980,000 which is 3 times higher than the state's median home price of around $310 000. However, as your kids moved out and houses are hard to maintain, you should instead consider renting or buying an apartment. The average rent for a one-bedroom apartment is around $1,880 per month. For a three-bedroom apartment, the average rent is around $2,660 per month. Additionally, the utility prices are 11% higher than the national average. However, not everything is expensive in Rockville as healthcare expenses are lower than the national average. Also, now you will have more money as you don't need to take care of your kids anymore.
Living in Silver Spring
Silver Spring is one of the best cities for empty nesters in Maryland. The city is located at Washington, D.C.'s northern boundary. This hidden gem of a city has all the arts and entertainment you would expect to find in a big city, but without the hassles and congestion. With its quiet streets and ample space, a Silver Spring community has a more suburban vibe. Silver Spring is a little bigger than Rockville as it has a population close to 100 000. There are many different types of homes available in Silver Spring. Stately Colonials and Cape Cod homes are located in older, more established neighborhoods like Woodside Park. Also, there are apartment buildings that offer leases on everything from studio flats to two-bedroom apartments. If you move to Silver Spring with moving companies in Silver Spring MD, you will be only 6 miles away from Washington D.C.
Gaithersburg is also listed as one of the best cities for empty nesters in Maryland
Gaithersburg is a perfect city if you want to live away from the crowds of Washington D.C. but with easy access to the city. The city has a population similar to Rockville around 70 000, but it's much more affordable. When you moved here with movers Gaithersburg MD, you can expect a clean and safe city that has everything for comfortable living. The city was a very popular place in the past for commuters to Washington D.C. The home prices were affordable, and people could actually afford to buy a house unlike in Washington. Nowadays, home prices are higher than in past and the median home value is around $850 000. The biggest attraction of Gaithersburg is The Montgomery County Agricultural Fair. This is a 9-day long fair held in August every year that has a lot of different exhibitions, food, drinks, activities, and entertainment options.
Bethesda could be a new home for you
Bethesda is a census-designated place with a population of almost 70 000. The city is located northwest of Washington, D.C., and it has changed significantly from its pre-colonial tobacco-growing roots. Now, a variety of long-time residents, commuters from D.C., and people from all over the world call Bethesda home, creating a diverse blend of cultures. Due to its strategic position, you can easily travel to Silver Spring's nightlife, stylish Georgetown, and the nation's capital. A large number of Bethesda residents commute to Washington, D.C. every day. The distance from the city to the center of Washington is just over nine miles. At off-peak hours, the drive takes roughly 35 minutes. For individuals who don't drive, there are also lots of public transit options, such as the Metrobus and the Red Line Metrorail. Moving to Bethesda with movers in Bethesda MD comes with many benefits.
The cost of living and attractions in Bethesda
As Bethesda is a popular commuter place, you can expect higher living costs. The living costs are about 60% higher than the national ones and the most expensive costs are housing and transportation. The housing options are diverse, and you can find luxurious apartments such as in the Palisades of Bethesda. Now, the real advantage of moving to Bethesda is the activities and city attractions. The west side of the city is especially popular to spend your free time because of Bethesda Row. Here you can shop at many stores, watch a movie, or eat at one of the many restaurants such as Fish Tako and Sweetgreen. The bright and welcoming trees that line Bethesda Avenue make this neighborhood especially appealing at night. You can see your favorite artist perform at Strathmore Music Center or see a live adaption of your favorite book at Round House Theatre.
Baltimore is one of the best cities for empty nesters in Maryland
This list wouldn't be complete without the most populous city in Maryland that is Baltimore. Living in a big city comes with many advantages and not just traffic jams and crowds. The biggest advantage of moving to Baltimore is the city's location which many people describe as perfection. The city is close to many other major cities such as NYC and Washington D.C. You don't even need to own a car to travel around Baltimore and nearby cities. The rail is actually the fastest way to travel to most major cities, including New York, Washington, D.C., and Philadelphia. Aside from its great location, Baltimore has a wide variety of excellent cultural venues, including world-class museums, beautiful theaters, energetic concert halls, and cutting-edge art scenes. Some of the museums you should visit are the Baltimore Museum of Art, the Walters Museum of Art, and the American Visionary Art Museum.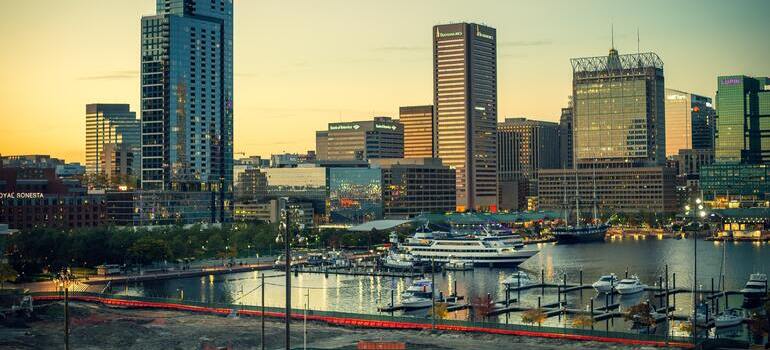 Living in Baltimore
There are many reasons why Baltimore should be on the list of the best cities for empty nesters in Maryland. Baltimore has a significant advantage over its neighboring cities in terms of affordability and living costs. For example, the median renting price for a one-bedroom apartment is around $1200 which is even lower than in Rockville. Additionally, Baltimore has many great neighborhoods to choose from such as Canton, Charles Village, Federal Hill, Mt. Washington, Mt. Vernon, etc. Now, all these neighborhoods have different vibes and charms. If you are looking for a quiet and little bit remote neighborhood, then Mt. Washington is a choice for you. If you want to live in a little bit affluent neighborhood, then your best option is Mt. Vernon. However, no matter which neighborhood you choose, you will be certainly happy in your new home.
You shouldn't forget about Greenbelt
Greenbelt is the smaller city on this list so far. It has a population of almost 30 000 and it's a perfect small town to live in. Living in Greenbelt has been enjoyable. Because of how close the stores are, you can essentially walk everywhere. You seldom have to walk very far to find a nice park as there is always a park nearby and Greenbelt has almost every type of retailer you can imagine. There is not a lot of crime in the area, and the residents are nice and welcoming. The numerous trees and neighboring lake trails contribute to the area's beauty. You can sign up for a variety of recreational activities, both for kids and adults such as sports, swimming, etc. Although there are numerous apartment buildings that are less expensive to live in, houses are very pricey.
When is the right time for relocation?
It's not easy to decide to move, especially after your kids move out. There are many memories that tie you to your current home. For this reason, while logic tells you that you should move, emotions are the ones to keep you here. But, you need to look realistically at your current situation. Big homes are hard to maintain. As you are getting older, you don't have the same energy and physical strength to clean the whole house and maintain your garden. Also, it's expensive to maintain a big home. For this reason, the better option will be to move to a smaller house or an apartment. Moving is not hard anymore as you can hire great professional movers for your relocation. Therefore, start preparing for your relocation soon.
As you can see, there are many great cities for empty nesters in Maryland. Of course, there are many more than listed here. Maryland as the state is a great place for living with many advantages. So, any city you end up choosing is going to be a great option for you.